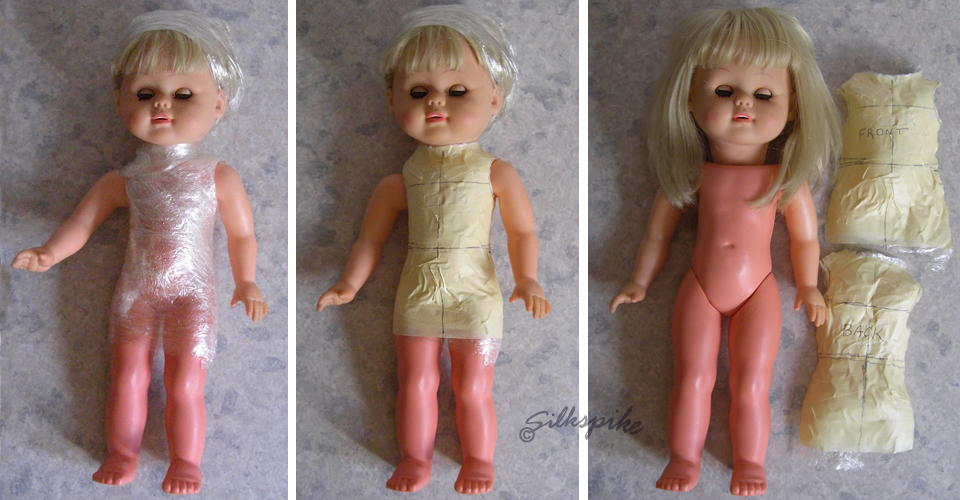 My Friend Saw Me Sewing for my Tonner Dolls and she asked me to fix up her dolly. Claudia is from Brazil and visited home recently and had some of her childhood dolls shipped here to England. Her doll is named Claudia. She was made in Germany over 40 years ago, and was given to her by her father who bought her because they had the same name.










BEST VIEWED with your browser at the 100% setting :)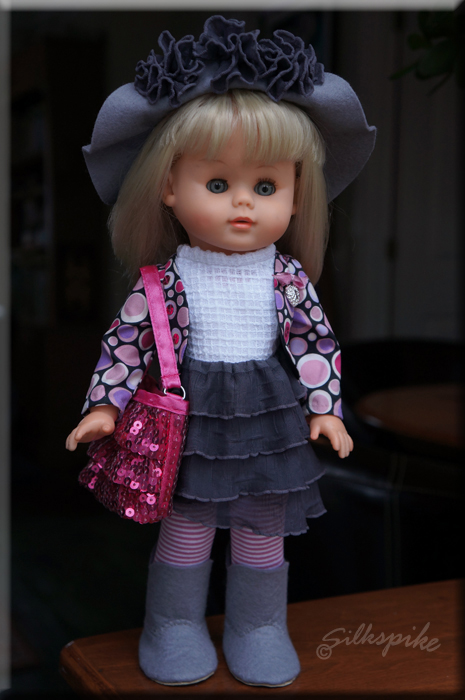 Claudia (the doll) had some issues such as her body, and limbs had turned a bright orange colour. One of her arms was set strange in the socket and she has no neck; instead her head fits into a rounded rim that is her shoulders.

We looked her up on the Internet following the stamps on the back of her head: "MMM Goldchen G2" and "Made in Germany 1100/37". We found several, and each one had the same strange arm, one eyelash shorter than the other and a wonky eyebrow.

I was determined to make Claudia special since she was so loved by my friend. I asked her if she wanted 'frilly baby doll' or 'funky and fun'. She chose funky and fun. Yay!

The hat and 'Ugg' boots are made from felt.  I also added a 'Build a Bear' brand sequin handbag at the end just for fun. I made her a 'Onesie' undergarment first. The bodice of the dress was designed to cover her 'spare tire' neckline. I chose grey to match her eyes, but added bright pinks, purples and lots of textures.

Website Designed by Silkspike Dolls using HOMESTEAD software.

Please do not use my photos or any portion of my website without asking permission.

This site is BEST VIEWED with your browser at the 100% setting :)