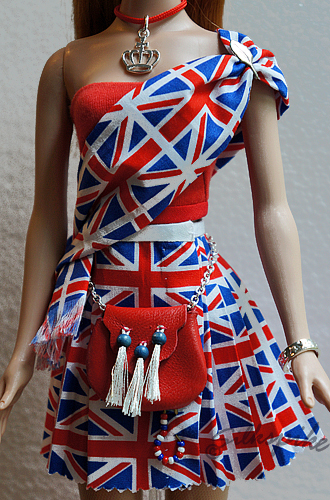 Penny is a bonnie lass from Glasgow, Scotland. Her unusual kilt represents Scotland and the outlaying islands.  Scotland has lent its culture to music and films and is a paradise of heathers and lakes.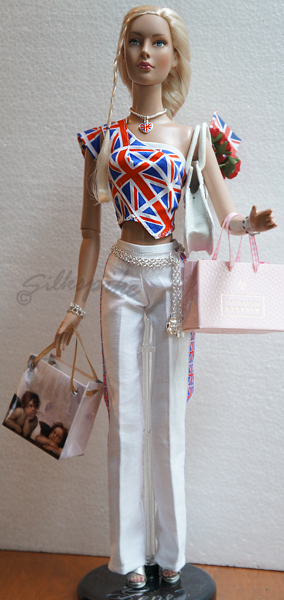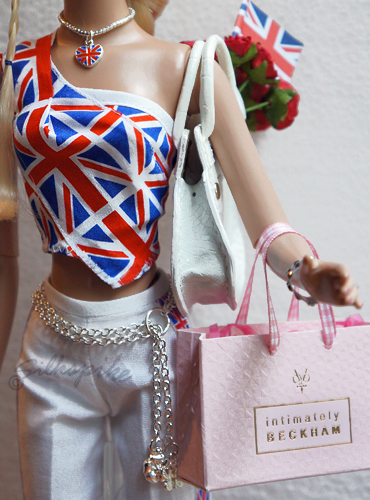 Jane is a Liverpudlian Lass – and yes, she loves the Beatles!  She represents shopping and leisure activities.  Britain has been called a nation of shopkeepers, and with Jayne around, the shops thrive!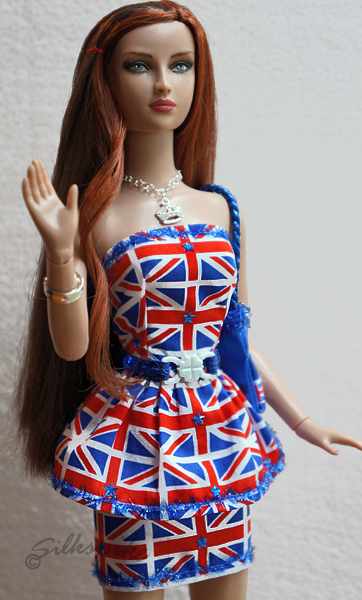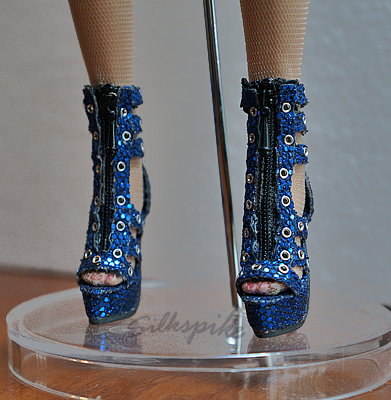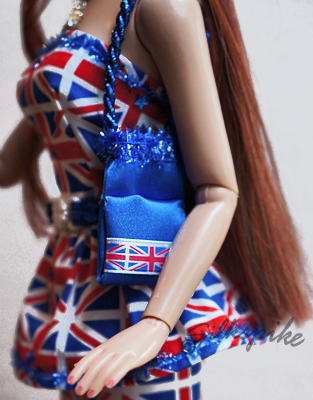 Roxanne is from Colchester, Essex, and represents clubbing – a favourite activity for all young people in Great Britain.  The fickle weather never keeps a good party down, but Roxanne is a smart girl who knows when to say when, which earned her the nickname, 'Chill'.  She wears a club dress with crystal stars and tinsel-style trim.  She looks stylish with her sparkly club shoes and satin bag. She is an Emilie head sculpt by Robert Tonner with a Tyler body, and is a OOAK repaint and re-root by German artist Mel G.

In celebration of the  Queen's Diamond Jubilee and the 2012 London Olympics, the models are all very proud to represent Great Britain for the 2012 Olympic Runway Modelling Event, where they will compete against models from other nations in various runway competitions, (most of which involve sky high footwear).  They are dressed in the outfits they will be wearing during the opening celebration of London 2012 Olympics.

She wears an asymmetrical top with white trousers sporting a slim ribbon of Union Jack trim down each leg.  She is juggling a white over the shoulder handbag full of roses and Union Jack flags and carries two shopping bags packed to the brim.  Jane is a Fashion Jane sculpt by Robert Tonner.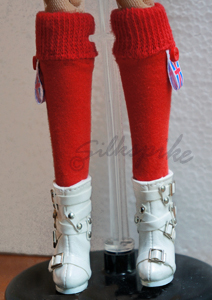 Penny's kilt wouldn't be complete without her red leather sporran and thick knee socks and sturdy, but stylish white boots.  Penny is a Tyler Wentworth sculpt called 'Party of the Season' by Robert Tonner.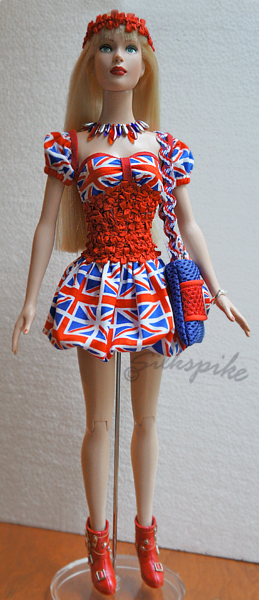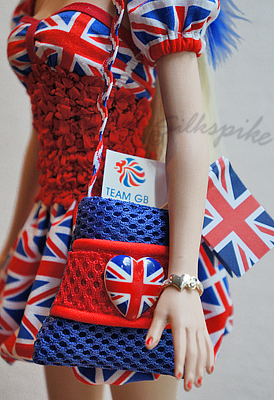 Hannah from Glastonbury in Somerset,  represents festivals and music in Great Britain.  Music is a powerful force in Great Britain and talented artists all over the nation have given the gift of British music to the entire world.  Hannah wears a bubble dress with puff sleeves and bodice.  Her corset is over-sewn with red trim with a matching head garland.  Her handbag is completely weather-proof and her shoes are well-equipped for festival terrain

and weather.  Hannah is a Tyler Wentworth sculpt and a OOAK (one-of-a-kind) repaint by Ken Bartram and was a 5th Anniversary convention doll.  She is signed on her bottom by her creator, Robert Tonner.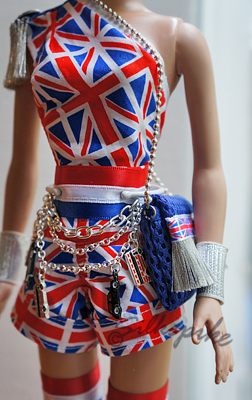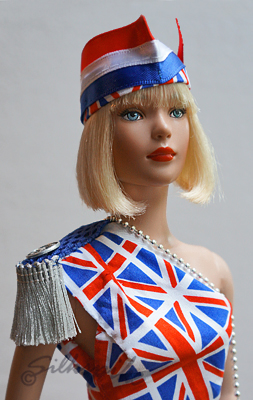 Trudy is from London and represents transport.  Brits need to travel and like to depend on good public transportation, good roads and efficient airports.  Sometimes the key to getting somewhere is just enjoying the journey.  Finding a place to park is a whole new adventure!  Trudy wears a military style short jumpsuit with an over-sized epaulette, and a belt festooned with transport charms. 

Her handbag is weather-proof and adorned with Union Jack trim and silver fringe that matches her epaulettes.  Her cuffed leggings have festive tops and hang over black boots that are suitable for walking her daily rounds.  She is a Tyler Wentworth sculpt by Robert Tonner.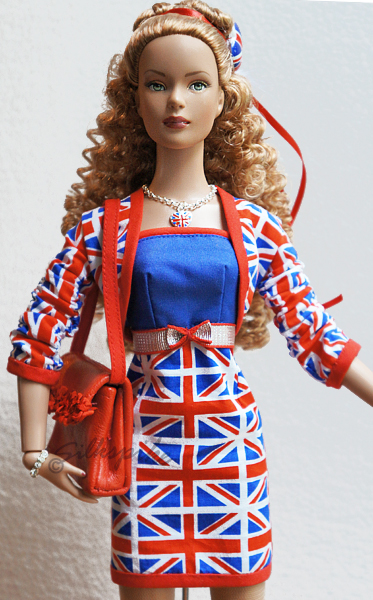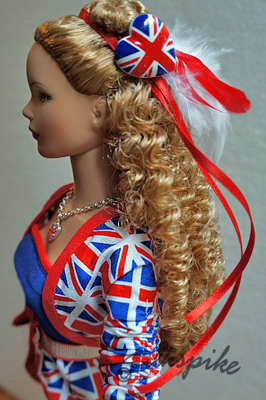 Sophie is from Belfast, Northern Ireland, and represents women's organisations and women in business.  Women in Great Britain enjoy freedom to not only be the best they can be, but to also help others by opening up their hearts, their purses and sharing their talents.

Sophie wears a princess line dress with a bolero

jacket with ruched sleeves, all trimmed in red.  Her Union Jack heart-shaped fascinator features oversized feathers and satin streamers.  She is a Tyler Wentworth sculpt called 'Irish Incantation' .

Aja Is from Birmingham in the East Midlands, and represents mind, body and soul.  She carries her yoga mat and is an expert in kick boxing.  Women in Great Britain know how to keep their great figures - and when life gets complicated, they can keep calm and carry on.  She wears long pants with a relaxed fit as well as a bolero style shirt, both featuring contrasting trim and deep V features.  Aja carries her yoga mat in a stylish holder slung over her shoulder.  She is a Carrie Chan sculpt by Robert Tonner.  She is a OOAK repaint by RavenDollz.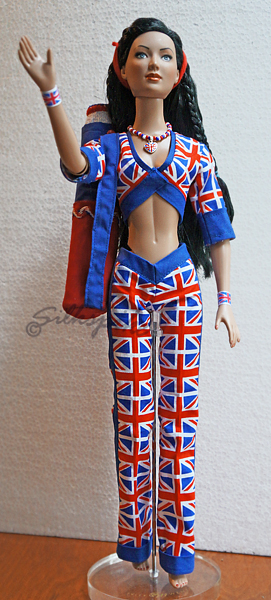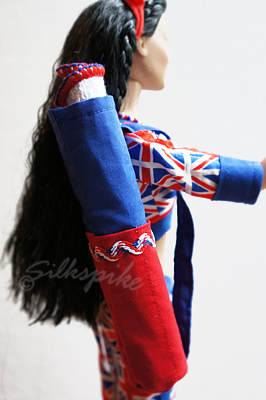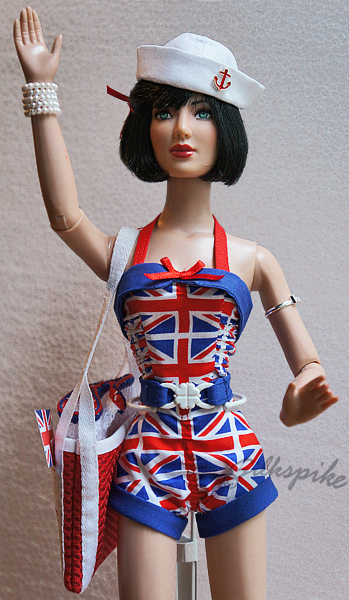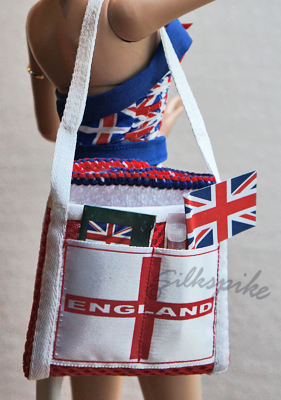 Kamryn is from Cardiff, Wales, and represents Great Britain's love of anything that has to do with the water - whether it be boating, fishing, swimming or just spending a day at the beach.   Kamryn wears a retro-style one piece swimsuit with contrasting belt, cuffs and bodice detailing.

She looks sporty in her sailor cap and carrying her official England bag for her swimming gear.  She is a Carrie Chan (Kir Royale) sculpt by Robert Tonner and the only model in the collection to have wigged hair rather than rooted.

  Eight Union Jack Fashions to

     Celebrate Great Britain and

         the London 2012 Olympics

1 June, 2012:

I have been working on this collection of eight outfits using Union Flag fabric in my spare time since March.  I was able to finish them by the Queen's Diamond Jubilee.

It has been a great project and I have learned so much about sewing for these wonderful 16" dolls.  I made most of the handbags and jewellery.  Some of the bracelets are toe rings and the necklaces are sourced from earrings bought mostly at Claire's.

Shown to the right is the size difference between 16" dolls and Barbie/Sindy sized dolls who measure only 11-1/2".  Barbie is 1/6 scale and the 16" dolls are 1/4 scale.

Barbie sports a copy of the famous Union Jack dress that Geri Halliwell made famous during a Spice Girls concert.  She is holding the larger sized doll's handbag.

(I did not make the Barbie-sized outfit)



Local newspaper article

about me and my dolls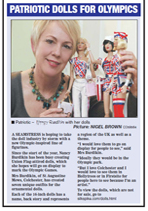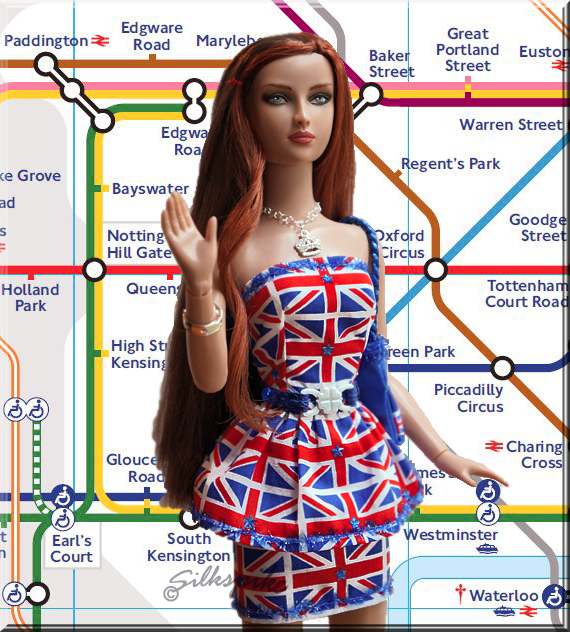 ...and just for fun, I superimposed Miss Roxanne in front of a London tube map - destination... all the best places!

My Tonner Emilie doll and I have something in common!  We have both lived on three continents.

Germany - where I was born and where Emilie got her re-root and face up - then she was adopted for a while by Helen and moved to America (as I was adopted by my parents and moved to  America)... and then she moved to England to live here *forever* ...just like me.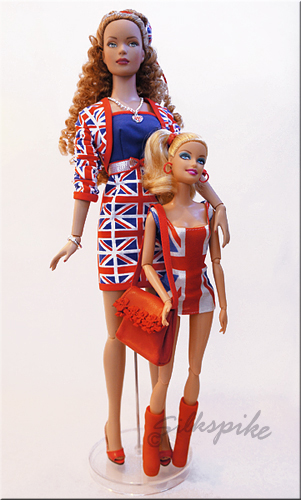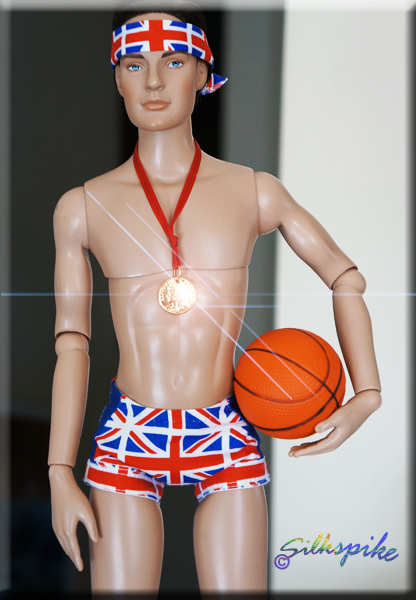 Jake is also from Wales, near Swansea.  He represents sports - from football to cricket and everything in-between, the Brits are passionate about sports.  Jake is a natural athlete, and it's not surprising he has already picked up one gold medal.

Jake excells at basketball - a sport taught to him by his American father.

Jake is a Sean O'Neill doll by Tonner.  Sean is the little brother of Matt and has a less blocky chin.

Male doll added to collection in February, 2014